A
plastic injection spill pallet mold
is a tool used to manufacture plastic spill pallets, which are used to contain and manage spills in industrial and commercial settings. Plastic spill pallets are designed to hold containers of liquids, such as drums or totes, and prevent spills from spreading onto the floor or into the environment. They are commonly used in the storage and handling of hazardous materials, as well as in areas where liquids need to be transported or stored safely.
To create a plastic injection spill pallet, manufacturers use a process called injection molding. In this process, plastic resin is melted and injected into a mold under high pressure. The mold is typically made of metal and has a cavity in the shape of the desired product. Once the plastic has cooled and solidified, the mold is opened and the finished product is removed.
Injection molding is a cost-effective method of mass-producing plastic products, and it is commonly used to manufacture a wide range of products, including automotive parts, toys, and household items. The use of a spill pallet mold allows manufacturers to produce large quantities of spill pallets quickly and efficiently, making it an important tool in the production of these products.
PLASTIC INJECTION SPILL PALLET MOLD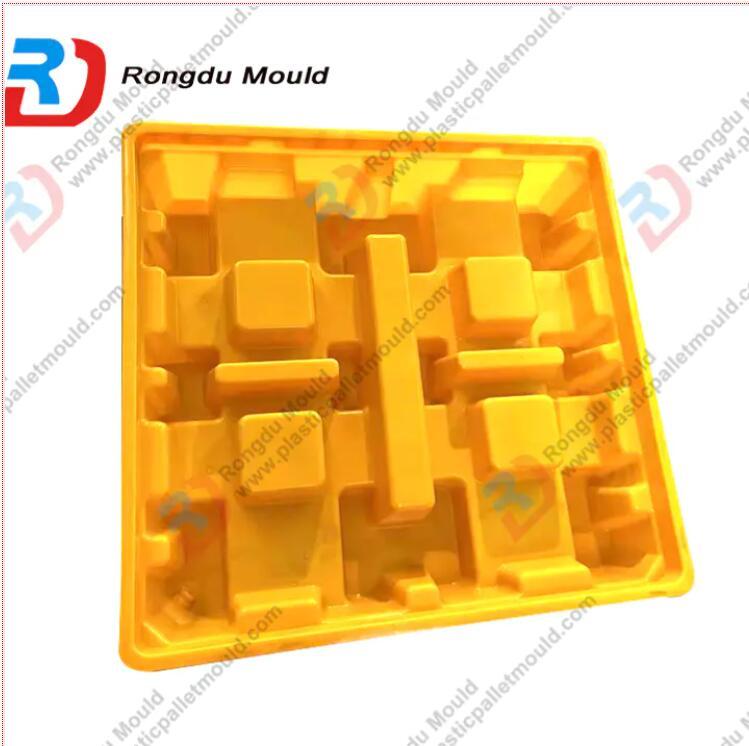 "Making Logistics More Faster" is our final achievement. So Rongdu Mould devote ourselves to logistics industrial for more than 30 years, we are on of the leaders at Pallet Mould manufacturing.
In order to support better quality pallet, Rongdu pay highly attention on the Mold Quality.  Rongdu have strong design team, we make many optimizations from hot runner system, cooling system, ejection system, and using well standard mold raw material, like HP20,H718,2738,S136 etc.
Rongdu Mould support more than 600 sets mould, including more than 500 sets pallet mould annually, and won a good reputations from our regular customer.